The Shuuen no Shiori Project (終焉ノ栞プロジェクト Shuuen no Shiori Purojekuto), is a Vocaloid song series based on various Japanese children's games and urban legends, and was created by 150-P (One Half-P).

There have been 76 articles since January 13, 2013.
Everyone is free to help out, but please make sure to only add confirmed information!



| | |
| --- | --- |
| | This wiki contains heavy spoilers to the series. Read our articles at your own risk! |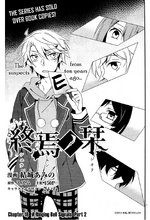 A Ringing Bell Signals (Part 2)
Coming soon...
Current Poll
Who is your favorite character?
Previous Poll
Are you excited to see more of the project?
| Rank | Poll | Votes | Percentage |
| --- | --- | --- | --- |
| 1st | Yes | 269 | 97.59% |
| 2nd | I'm not sure yet | 6 | 2.41% |
| 3rd | No | 0 | 0% |